Wednesday, July 16, 2008
What does it take...
...to bring a blogger out of semi-retirement?
Something like
this
. Warning: do not view this if you are prone to nightmares where you're being chased by someone or something or if you have eaten an entire Bloomin' Onion right before going to bed.
This is some seriously weird s---t. 
(Writethru) == Being unable to help myself, I just watched it again. The opening shot reminds me of something in the third Star Wars film. I expected to see an Ewok aboard this thing, throwing rocks at Stormtroopers.
Labels: weird-ass robots
Monday, January 21, 2008
A 'Running' Gag
Had my longest training run yet today in preparation for the Flying Pig Marathon in my native Cincinnati May 4. Colder than hell outside today (no idea what the real temperature was when I left. Does it really matter when it's below freezing?) and the six-mile segment on northbound Tidewater Drive was about as enjoyable as being hit in the face repeatedly, which is what the icy north wind was doing to me the whole time. I'd like to say the westward turn that followed was a refreshing relief, but as the kids at schools say, "I ain't gon' lie." The last couple miles were a slog and there's nothing worse than finishing your route by walking home in the cold with wet clothes. A late lunch and a hot shower seem to have me in better spirits at the moment. I'm hoping the Ibuprofen I took keeps them that way.

Anybody besides me love Sniglets? I guess I never really let go of the craze when it ended (did it every really begin?) in the late-80's. Since then, I've enjoyed coming up with words that combine at least two other words in a meaningful or humorous way. Ask my English students; they'll tell you that I've been speaking my own language - one they don't understand - for years. When they allude to this, I usually want to reference Jodie Foster's "Nell," but they don't need motivation for another round of blank looks.

Anyway, I'll start a list of ones I've come up with recently. I'll ride this thing 'til the wheels fall off.

SNOCALYPSE: Snow Apocalypse. This is one I hope will catch on, especially in parts of the country where, like here, they don't get much of "The White Stuff." For example, starting on Thursday of last week, the weathercasters began talking about a coastal storm coming our way that was supposed to dump 3-6 inches of snow on us on Saturday/Sunday. This did not happen. If it had, things'd be pretty well f-ed for about a week. There probably wouldn't even be school tomorrow. I'm not even kidding. I'm sure there was a run on food staples at the store, though didn't see it here firsthand (a store in Richmond on Saturday evening was packed as the snow began to fall, though). This is what happens when your annual snowfall is less than 3 inches. And it's indicative of how seriously people take snow around here. It's as if they fear it. That's certainly the way they act when they're on the road and it starts to fall from the sky.

Editor's Note: My wife takes issue with this one, but I like the way it sounds.

SPAGHETTIQUETTE: I heard Martha Stewart answer a question today on her TV show about whether it's cool to use a spoon to twirl one's spaghetti at the table. She answered by saying, "FUCK NO!", or something to that effect. In a drunken, drug-fueled tirade, she told that questioner that you shouldn't need a spoon. Instead, she recommended twirling small portions with a fork before shoveling them into your piehole.

Anyone have good ones? Leave them in comments if so.
Wednesday, January 02, 2008
Another Reason My Wife is the Funniest
Email #1 from today.....

Pictured: A Frosty the Snowman cookie I put in her stocking this year for Christmas.





















Email #2 from today......

Subject Line: Oh No!


Sunday, November 25, 2007
At My School, This is How We Roll
Welcome, cold and flu season...

Allow me to introduce you to my friends, hand sanitizer and a king-sized roll of TP heisted from the teacher's restroom.


Sunday, October 28, 2007
A Redneck Tank Top
Thanks for this to my friend Marissa, who once forwarded the legendary series of photos that included the dude (at the Martinsville, Va., NASCAR track) with Dale Earnhart's #3 shaved into his back hair.


All Children Left Behind
Hidden in The Washington Post's excellent story today about the failures of the No Child Left Behind Act was the following passage about Como Elementary School in Mississippi:

More than a third of Como's 32 teachers are new this year, and five of those have been hired with an "emergency license" because they lack full teacher training. At least three of the new teachers had been dismissed or released from other schools. One resigned after just a few weeks when he was found hiding from the third-graders in his class who were throwing papers at him.

Reactions:

- How can you say you have national standards when a state like Mississippi meets expectations so much lower than everyone else?
- Those Como kids roll HARD ("Another worksheet? I got something for you, teacher man.")
- 33% makes the 10% we lost this year (after a VERY rough year in 06-07) look puny.
Sunday, October 07, 2007
Synchronicity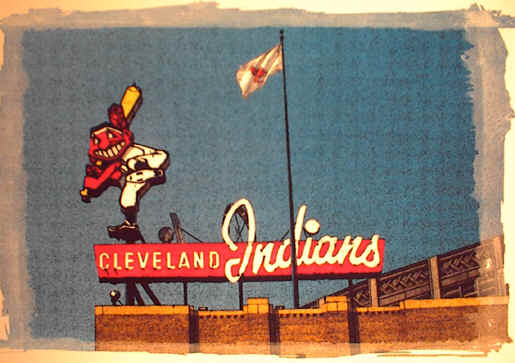 On TBS, the Cleveland Indians are dismantling the N.Y. Yankees in the A.L. playoffs.

Meanwhile, over on AMC, half-blood Indian fighter Daniel Day-Lewis is performing a hatchet job of his own against the Brits in "The Last of the Mohicans."

Coincidence?
Running Up a Tab at 'The Office'
Ever fantasized about running over your boss with a car? Perhaps a coworker? Or one of your employees?

If you do it on the job, it could cost the company as much as $450,000 from the ensuing lawsuit, depending on actual medical expenses, according to Julie Elgar, a labor and employment attorney at the law firm of Ford & Harrison in Atlanta who's taken it on herself to critique the NBC TV show "The Office" from her perspective as a lawyer representing management in companies that have been sued by their employees and former employees. Her blog title: "That's What She Said," after a really lame job told by office chief Michael Scott, above.

In a recent posting, she referenced the season premier, in which Scott, the leader of a branch office of fictional paper distributor Dunder Mifflin, ran over one of his subordinates, Meredith, in the parking lot, then used the woman's exposure to a bat (also on company property, but that's another story) to exculpate himself.

Elgar writes:

Add to that Michael's admission to his boss that the accident was caused by his "negligence," and Meredith has the beginnings of a nice little lawsuit. Maybe this would be the time for Dunder Mifflin's attorneys to remind Michael of my favorite saying: "If you can't be good, then, for the love of God, just be quiet."
Tuesday, October 02, 2007
Still Going Strong...
Unlike the Bengals, who are 1-3 after getting their pee-pees caught in their zipper last night against the Patriots, the bulletin board still stands in immaculate condition.

Pity, perhaps?